Pacific Biosciences of California, Inc. PACB, also popularly known as PacBio, recently collaborated with The European Reference Genome Atlas ("ERGA") consortium to aid its efforts with regards to understanding and safeguarding biodiversity. The partnership involves PacBio lending support to biodiversity protection through generation of high-quality reference genomes for European plant and animal species.
It is worth mentioning that global biodiversity is currently under increasing threat with a high number of European species at the risk of extinction. In this regard, genomics can come to aid by making biology and the functioning of ecosystems understandable.
This partnership is likely to aid PacBio to significantly expand its market share for sequencing in innovative ways, thus strengthening its global foothold.
Significance of the Collaboration
On the back of PacBio's HiFi Sequencing technology, scientists will be able to take the first crucial step by creating reliable high-quality genetic maps of each plant and animal species. According to studies, reference-quality genomes offer the most comprehensive insight into the genetic basis forming each species.
Per management at PacBio, the combination of ERGA and PacBio can help Europe's biodiversity to recover by 2030.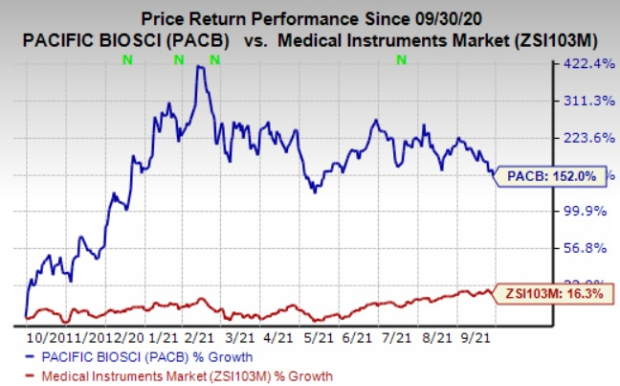 Image Source: Zacks Investment Research
This collaboration extends PacBio's sustained support for global and regional consortiums, which include the Darwin Tree of Life and Aquatic Symbiosis Genomics initiatives with the Wellcome Sanger Institute, the Vertebrate Genomes Project, the Earth BioGenome Project and the California Conservation Genomics Project.
The aforementioned initiatives are committed toward preserving, monitoring and cataloging biodiversity with actionable and accurate genomic data.
Market Prospects
Per a report by Allied Market Research, the global DNA-sequencing market was valued at $6,243 million in 2017 and is expected to reach $25,470 million in 2025 at a CAGR of 19%. Factors like surge in sequencing applications and rise in technological advancements are likely to drive the market. Hence, this partnership comes at an opportune time for PacBio.
Recent Developments
This month, the company completed its previously announced (Jul 20) acquisition of Omniome. The buyout will enable PacBio to become the only company having both highly accurate long-read and short-read sequencing platforms under its wings.
In August, PacBio acquired Maryland-based biotechnology company, Circulomics Inc., to utilize the latter's Nanobind technology to accelerate its efforts to make sample extraction and library preparation easier for its customers.
PacBio, in July, announced its intention to expand its multi-year collaboration with Invitae Corporation NVTA to develop a production-scale high-throughput HiFi sequencing platform to include the sequencing technology developed by Omniome.
Price Performance
Shares of the Zacks Rank #3 (Hold) have skyrocketed 152% in the past year compared with the industry's growth of 16.3%.
Stocks to Consider
Some better-ranked stocks from the broader medical space are Henry Schein, Inc. HSIC and Envista Holdings Corporation NVST, both currently carrying a Zacks Rank #2 (Buy). You can see the complete list of today's Zacks #1 Rank (Strong Buy) stocks here.
Henry Schein's long-term earnings growth rate is estimated at 13.9%.
Envista Holdings' long-term earnings growth rate is estimated at 27.4%.
Zacks' Top Picks to Cash in on Artificial Intelligence
In 2021, this world-changing technology is projected to generate $327.5 billion in revenue. Now Shark Tank star and billionaire investor Mark Cuban says AI will create "the world's first trillionaires." Zacks' urgent special report reveals 3 AI picks investors need to know about today.
See 3 Artificial Intelligence Stocks With Extreme Upside Potential>>
Henry Schein, Inc. (HSIC): Free Stock Analysis Report
Pacific Biosciences of California, Inc. (PACB): Free Stock Analysis Report
Invitae Corporation (NVTA): Free Stock Analysis Report
Envista Holdings Corporation (NVST): Free Stock Analysis Report
To read this article on Zacks.com click here.
The views and opinions expressed herein are the views and opinions of the author and do not necessarily reflect those of Nasdaq, Inc.
Read more here: Source link