Intellia (NTLA – Free Report) and partner Regeneron (REGN – Free Report) announced that the FDA has granted Orphan Drug designation ("ODD") to their CRISPR genome-editing candidate, NTLA-2001, for the treatment of transthyretin (ATTR) amyloidosis.
The ODD is granted by the FDA to those candidates that are being developed to treat, diagnose or prevent a rare disease or condition. ODD makes the sponsor eligible to receive seven years of market exclusivity following potential approval and tax credit for qualified clinical studies.
NTLA-2001 has already received a similar designation from the European Commission earlier this year in March.
Shares of Intellia gained 3.9% on Oct 21 following the news. In fact, the stock has rallied 146.7% so far this year against the industry's 10.1% decline.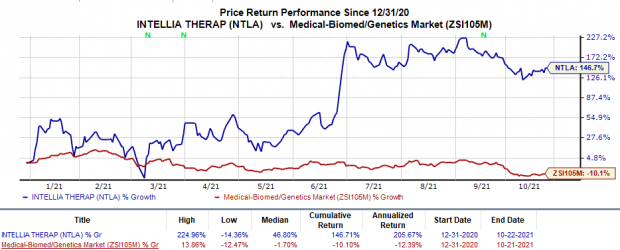 Image Source: Zacks Investment Research
We inform investors that ATTR amyloidosis is a fatal indication that causes the liver to produce structurally abnormal transthyretin (TTR) protein that has a propensity to misfold. This causes serious complications in multiple tissues including heart failure and nerve damage.
NTLA-2001 is currently being evaluated in a phase I study in adults with hereditary transthyretin amyloidosis with polyneuropathy (ATTRv-PN).
In June 2021, Intellia and Regeneron announced interim positive data from the above-mentioned phase I study. Data from the study demonstrated that treatment with a single dose of NTLA-2001 (0.3 mg/kg) has the potential to halt and reverse the devastating complications of ATTR amyloidosis. Patients treated with the therapy NTLA-2001 exhibited a mean reduction of 87% in serum TTR levels, with a maximum 96% serum TTR reduction by day 28, and showed a dose-dependent response. Usually, the standard of care for ATTRv-PN generates TTR reductions of approximately 80%.
We remind investors that NTLA-2001 is one of the many CRISPR candidates being developed by the company with Regeneron. Intellia's partnership with Regeneron is part of a collaboration agreement aimed at developing CRISPR/Cas9-based treatments across multiple indications. Currently, both the companies are also co-developing potential CRISPR/Cas9-based therapies for hemophilia A and B.
CRISPR stands for Clustered Regularly Interspaced Short Palindromic Repeats. Therapies using the CRISPR technology can selectively delete, modify or correct a disease-causing abnormality in a specific deoxyribonucleic acid segment.
Competition is stiff in this space from companies like Editas Medicine (EDIT – Free Report) and CRISPR Therapeutics (CRSP – Free Report) , which are also utilizing the CRISPR/Cas9 gene-editing technology to develop their respective candidates for addressing various ailments.
Zacks Rank
Intellia currently carries a Zacks Rank #3 (Hold). You can see the complete list of today's Zacks #1 Rank (Strong Buy) stocks here.
Read more here: Source link