Intellia NTLA and partner Regeneron REGN announced that the FDA has granted Orphan Drug designation ("ODD") to their CRISPR genome-editing candidate, NTLA-2001, for the treatment of transthyretin (ATTR) amyloidosis.
The ODD is granted by the FDA to those candidates that are being developed to treat, diagnose or prevent a rare disease or condition. ODD makes the sponsor eligible to receive seven years of market exclusivity following potential approval and tax credit for qualified clinical studies.
NTLA-2001 has already received a similar designation from the European Commission earlier this year in March.
Shares of Intellia gained 3.9% on Oct 21 following the news. In fact, the stock has rallied 146.7% so far this year against the industry's 10.1% decline.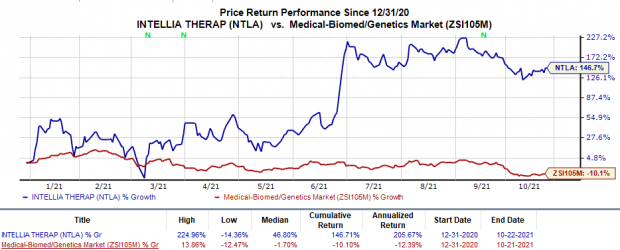 Image Source: Zacks Investment Research
We inform investors that ATTR amyloidosis is a fatal indication that causes the liver to produce structurally abnormal transthyretin (TTR) protein that has a propensity to misfold. This causes serious complications in multiple tissues including heart failure and nerve damage.
NTLA-2001 is currently being evaluated in a phase I study in adults with hereditary transthyretin amyloidosis with polyneuropathy (ATTRv-PN).
In June 2021, Intellia and Regeneron announced interim positive data from the above-mentioned phase I study. Data from the study demonstrated that treatment with a single dose of NTLA-2001 (0.3 mg/kg) has the potential to halt and reverse the devastating complications of ATTR amyloidosis. Patients treated with the therapy NTLA-2001 exhibited a mean reduction of 87% in serum TTR levels, with a maximum 96% serum TTR reduction by day 28, and showed a dose-dependent response. Usually, the standard of care for ATTRv-PN generates TTR reductions of approximately 80%.
We remind investors that NTLA-2001 is one of the many CRISPR candidates being developed by the company with Regeneron. Intellia's partnership with Regeneron is part of a collaboration agreement aimed at developing CRISPR/Cas9-based treatments across multiple indications. Currently, both the companies are also co-developing potential CRISPR/Cas9-based therapies for hemophilia A and B.
CRISPR stands for Clustered Regularly Interspaced Short Palindromic Repeats. Therapies using the CRISPR technology can selectively delete, modify or correct a disease-causing abnormality in a specific deoxyribonucleic acid segment.
Competition is stiff in this space from companies like Editas Medicine EDIT and CRISPR Therapeutics CRSP, which are also utilizing the CRISPR/Cas9 gene-editing technology to develop their respective candidates for addressing various ailments.
Intellia Therapeutics, Inc. Price
Intellia Therapeutics, Inc. price | Intellia Therapeutics, Inc. Quote
Zacks Rank
Intellia currently carries a Zacks Rank #3 (Hold). You can see the complete list of today's Zacks #1 Rank (Strong Buy) stocks here.
Zacks Names "Single Best Pick to Double"
From thousands of stocks, 5 Zacks experts each have chosen their favorite to skyrocket +100% or more in months to come. From those 5, Director of Research Sheraz Mian hand-picks one to have the most explosive upside of all.
You know this company from its past glory days, but few would expect that it's poised for a monster turnaround. Fresh from a successful repositioning and flush with A-list celeb endorsements, it could rival or surpass other recent Zacks' Stocks Set to Double like Boston Beer Company which shot up +143.0% in a little more than 9 months and Nvidia which boomed +175.9% in one year.
Free: See Our Top Stock and 4 Runners Up >>
Regeneron Pharmaceuticals, Inc. (REGN): Free Stock Analysis Report
Editas Medicine, Inc. (EDIT): Free Stock Analysis Report
Intellia Therapeutics, Inc. (NTLA): Free Stock Analysis Report
CRISPR Therapeutics AG (CRSP): Free Stock Analysis Report
To read this article on Zacks.com click here.
The views and opinions expressed herein are the views and opinions of the author and do not necessarily reflect those of Nasdaq, Inc.
Read more here: Source link