The African BioGenome Project aims to safeguard biodiversity and build bioinformatics capacity across Africa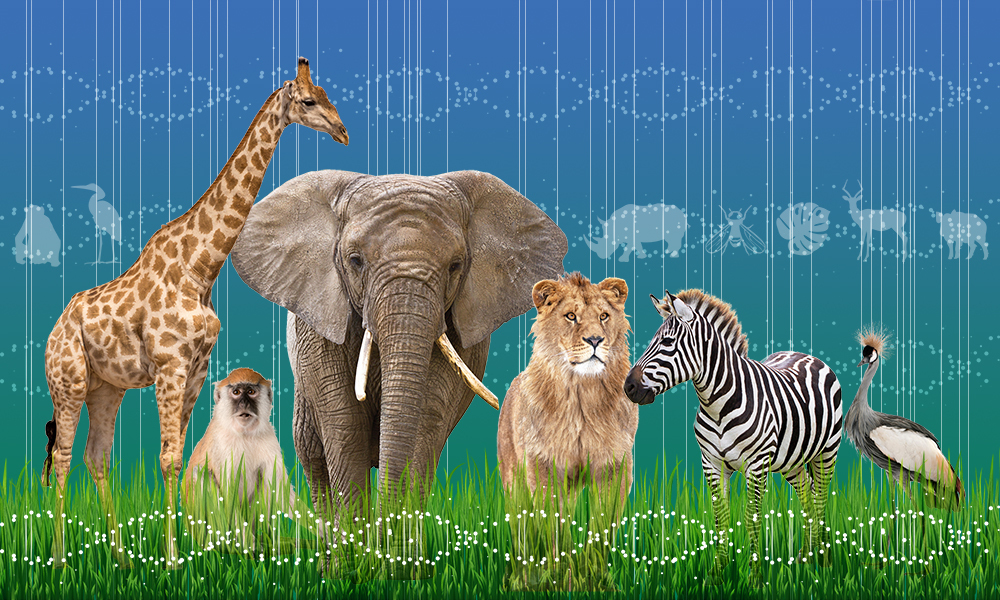 The African BioGenome Project (AfricaBP) is an Africa-led effort to sequence the genomes of plants, animals, fungi, and protists that are native to the continent of Africa.
There is an urgent need to understand Africa's biodiversity through genomics and ensure the sustainable use of native plants and animals. Having a better understanding of this genomic information is important for safeguarding biodiversity and improving plant resilience in response to future environmental pressures such as climate change.
AfricaBP currently hosts 109 African scientists and 22 African organisations, representing researchers and organisations from all five regions in the African Union. In their recent position paper, published in the journal Nature, the AfricaBP researchers outline the project's goals to improve food security, natural resource conservation, and sharing of data and benefits in an inclusive and equitable way that centres on the priorities of the African people. By supporting researchers within Africa, the project aims to lead the African continent onto the next big stage of research and innovation.
Starting the AfricaBP
"The evolution of AfricaBP started during my time as a PhD student at Cambridge University in 2013. When I arrived in the UK, I realised how different bioinformatics and genomics were here compared to in Africa," said ThankGod Echezona Ebenezer, Founder and Co-Chair of AfricaBP and Bioinformatician at EMBL's European Bioinformatics Institute (EMBL-EBI). "When I was studying in Africa, we didn't have access to expensive sequencing machines, and core bioinformatics courses were not easily accessible, especially within the non-human space. This made me realise that we needed to build capacity in genomics and bioinformatics across Africa."
The primary goals of the AfricaBP are also strongly supported by African governments, the African Union Commission, national and regional agencies, and international partners and organisations. The project will work with policymakers on recommendations for laws and regulations around national access and benefit sharing. In addition to new policies to support AfricaBP, national governments will work in collaboration with regional and international partners to invest in the infrastructure to support genomics and bioinformatics in Africa.
African biodiversity data
Understanding planetary biology at the molecular level is vital to help researchers understand the environmental parameters affecting biological processes and to help them address pressing societal issues including biodiversity decline. With its new Planetary Biology theme, EMBL is striving to support scientists to understand biodiversity as it changes.
Africa is rich in biodiversity but is hugely understudied compared to other ecosystems across the world. Collecting, sequencing, and storing genomic information on the continent – by and for the African people – is a fundamental priority for the AfricaBP. This will help build resilience through plant breeding, sustainable food systems, and biodiversity conservation across the continent while complementing efforts by the Human Hereditary and Health (H3Africa) consortium, which focuses on human health and genomics.
"If we want to sequence all life across Africa, then we need expertise and technologies that can penetrate hard-to-reach places because some of the species we want to sequence will not be easy to obtain," said Ebenezer. "It's in these secluded places that you find the majority of the biodiversity. This is going to be a very challenging aspect of the project."
AfricaBP is also a partner to three complementary large-scale global genomic efforts, including the 10,000 Plant Genomes Project, the Vertebrate Genomes Project, and the Earth BioGenome Project; the last aims to sequence the genomes of all eukaryotic species on Earth. Data from these projects and AfricaBP will be freely available through the International Nucleotide Sequence Database Consortium (INSDC), of which the European Nucleotide Archive is a member.
Building bioinformatics capacity
"We want to not only conserve biodiversity on the continent but also build the skill base required for biodiversity conservation," said Ebenezer. "We can sequence genomes very easily but the people who are custodians of African biodiversity must also understand the techniques and genomics needed. This is important for the long-term sustainability of the project."
AfricaBP also envisions developing a fellowship for early-career researchers to invest in the next generation of scientists. Continuous and sustained investment in early-career researchers through AfricaBP will help ensure opportunities for African scientists and give them an incentive to develop the bioinformatics ecosystem in the region.
"We are working within the AfricaBP to find a solution to some of the economic issues faced by African researchers," added Ebenezer. "For example, we are working to find a better way to sequence and analyse samples without having access to large servers and genomics infrastructures because these are very expensive and challenging to maintain in Africa. The project is driven mainly by early-career researchers and we want to support them in every way possible."
Next steps
The next step for the AfricaBP is to secure a formal backing from key African institutions such as the African Union Commission and the African Academy of Sciences so that the project is linked to one of their programmes. Following this, the plan is to secure a multi-year core funding by exploring support from national, regional, and international funders and partners. With the right support, the Africa BioGenome project hopes to safeguard biodiversity on the continent and contribute to tackling some of the biggest challenges facing the world.


/Public Release. This material from the originating organization/author(s) may be of a point-in-time nature, edited for clarity, style and length. The views and opinions expressed are those of the author(s).View in full
here
.
Read more here: Source link