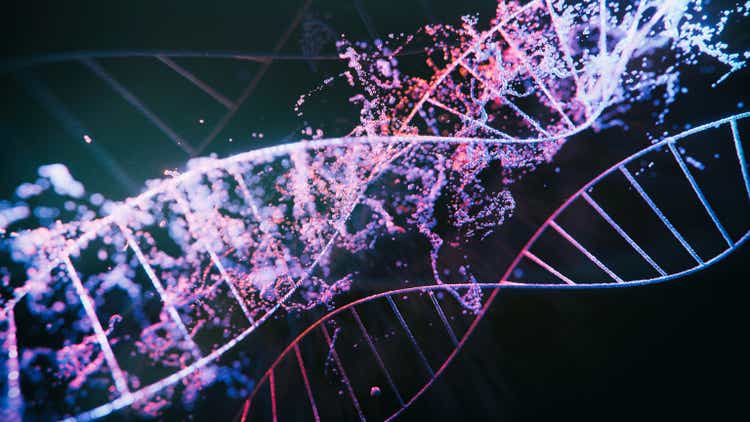 Deciphera Pharmaceuticals (NASDAQ:DCPH) is a biopharmaceutical company whose mission is to develop innovative and effective treatments for cancer patients. This goal is facilitated by their focus on drug discovery and development, resulting in a robust pipeline of potential drugs, with several candidates in various stages of clinical development. The power of Deciphera's drug discovery platform, which centers around switch-control kinase inhibitors, allows them to target cancer cells more accurately and efficiently.
This combination of an effective drug development approach together with their solid pipeline grants Deciphera significant growth prospects in the future. The success of the company's management team in the biopharmaceutical industry has enabled Deciphera to rapidly progress its drug candidates through clinical development, and the company presents a worthwhile growth opportunity for those interested in the biopharmaceutical oncology sphere.
Financial Updates
Deciphera reported total revenue of $36.3 million for Q4 2022, an increase from $24.2 million for the same period in 2021. This growth was mainly due to higher net product revenue of QINLOCK and collaboration revenue. The company's international and total net product revenue for Q4 included a one-time reserve for QINLOCK product sales in Germany due to a change in German law effective November 2022. For the year ended December 31, 2022, cost of sales totaled $8.7 million, including $2.7 million in cost of product sales, compared to $2.9 million in 2021, with the cost of product sales amounting to $1.3 million. In addition, in Q3 2022, the company sold zero-cost inventories of QINLOCK that were expensed prior to receiving approval from the FDA.
Research and development expenses for Q4 2022 amounted to $48.1 million, a decrease from the $74.9 million reported in the same period of 2021. The decline was mostly attributed to decreased clinical study costs associated with QINLOCK as well as discontinuation of the rebastinib program. Non-cash, stock-based compensation for the years ending on December 31, 2022, and 2021 respectively, equaled $22.2 million and $20.7 million.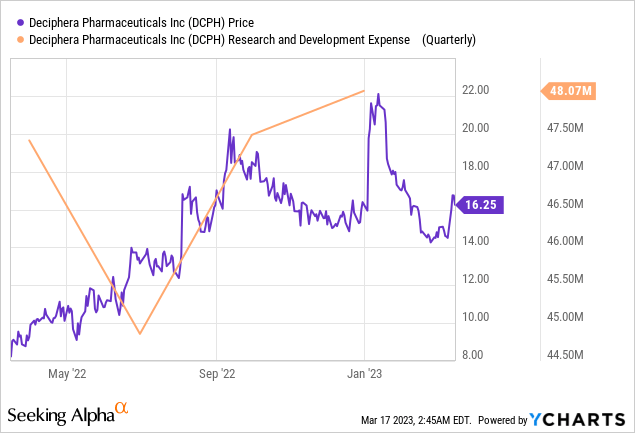 Deciphera preserved cash, cash equivalents, and marketable securities worth $339.0 million, a small increase from the sum of $327.6 million calculated at the end of 2021. Taking into consideration its accessible funds amid potential income increases, product royalties, supply incomes, and proceeds from its underwritten public offering in January 2023, the company foresees it can finance its operational and capital expenditures until 2026, assuming there are no extra payments owed under its current collaboration or license agreements. Given this relatively slow burn rate, financials are not likely to be a detrimental factor in bringing their late-stage pipeline candidates to market.
Note that Deciphera reported a net loss of $45.9 million for Q4 2022, which is smaller than the $88.4 million figure recorded during the same interval in 2021. Net loss for the year concluded on December 31, 2022, was also less at $178.9 million, displaying an improvement from the 2021 tally of $300.0 million. This progress was largely owing to the growth in total revenue and the descent in R&D and SG&A expenses, and will likely approach an inflection point once their products furthest in their pipeline reach market-stage.
Novel Kinase Inhibitors
Deciphera has a product line that includes ripretinib, vimseltinib, and DCC-3116. Ripretinib is an orally administered kinase inhibitor used to treat gastrointestinal stromal tumor. While approved kinase inhibitors control certain mutations in KIT and PDGFRA, which drive disease progression in most GIST patients, these drugs fail to inhibit all known mutations. Ripretinib was designed to improve GIST treatment by inhibiting all the known mutations in KIT and PDGFRA. It is a KIT and PDGFRA switch-control kinase inhibitor that blocks initiating and resistance KIT mutations in exons 9, 11, 13, 14, 17, and 18 present in GIST patients.
Vimseltinib is an investigational, orally administered kinase inhibitor of CSF1R that has shown solid preliminary efficacy and safety data in patients who have TGCT. Vimseltinib was developed through Deciphera's proprietary drug discovery platform and designed to selectively bind only to the CSF1R switch pocket.
DCC-3116 is another investigational, orally administered kinase inhibitor of the ULK kinase. It was also discovered using Deciphera's proprietary drug discovery platform and is an inhibitor of autophagy, a key tumor survival mechanism in cancer cells – it does this by inhibiting ULK 1/2 kinases, which are involved in autophagy activation. DCC-3116 coupled with RAS/MAP kinase pathway inhibitors may change how RAS/RAF cancers are treated in the future.
INTRIGUE Phase 3 Shows Excellent Exploratory Results
Deciphera recently announced findings of an analysis of data from the INTRIGUE Phase 3 QINLOCK study using ctDNA from patients with gastrointestinal stromal tumor who had previously been treated with imatinib and possess mutations in KIT exon 11 and 17/18. The exploratory analysis showed that QINLOCK provided significant clinical benefit compared to sunitinib, the current standard of care for fourth-line GIST patients. These results are extremely positive and suggest that QINLOCK could vastly improve care for this subgroup of patients.
The primary goal of the INTRIGUE Phase 3 trial was to assess the tumor-fighting effectiveness of QINLOCK based on the presence of initial and subsequent KIT mutations in GIST patients who had previously undergone imatinib treatment. Out of the 453 patients included in the intent-to-treat group, baseline circulating tumor DNA was examined in 362 patients who provided suitable samples. KIT mutations were identified in 213 patients, and those with mutations solely in KIT exons 11 and 17/18 exhibited significantly enhanced progression-free survival, objective response rate, and overall survival when treated with QINLOCK compared to sunitinib.
These results highlight the exceptional, selective advantage of ripretinib for individuals with distinct molecular GIST subtypes in a second-line treatment context, specifically those with ctDNA revealing KIT exon 11 and 17/18 mutations. This could potentially revolutionize second-line GIST treatment practices, and as ctDNA tests become more refined and commonly employed in clinical settings, it is crucial that the development of pharmaceuticals persists, striving to comprehend the influence of medications on particular molecular GIST subtypes.
Phase 3 MOTION Study Enrolled And Underway Soon
Deciphera disclosed that they have finalized patient recruitment for the critical Phase 3 MOTION investigation of vimseltinib involving individuals with tenosynovial giant cell tumors who are not suited for surgical intervention. The MOTION research comprises two parts: a randomized, double-masked, placebo-controlled evaluation of vimseltinib's effectiveness and safety for those with TGCT unable to undergo surgery. The primary goal of this investigation is to determine the objective response rate at the 25th week, as gauged by RECIST version 1.1 through an impartial radiological assessment.
The company anticipates sharing preliminary findings during the last quarter of 2023. The swift recruitment for the critical Phase 3 MOTION investigation underscores the considerable unaddressed medical necessity for an efficacious and well-tolerated medication for TGCT patients, as well as the leading therapeutic potential of vimseltinib. The outcomes of the Phase 1/2 investigation of vimseltinib in TGCT revealed its remarkable clinical performance and positive safety and tolerability characteristics, crucial for those with TGCT.
Deciphera presented updated outcomes from the ongoing Phase 1/2 investigation of vimseltinib in TGCT at the European Society for Medical Oncology Congress in September 2022. The information showed objective response rates of 69%, 53%, and 46% for Phase 1, Phase 2 Group A, and Phase 2 Group B, respectively, with a 100% clinical benefit rate for all Phase 1/2 participants. Moreover, initial patient-reported outcome information from the Phase 2 segment indicated clinically significant enhancements in pain and rigidity at the 25th week in comparison to the starting point.
Potential Issues In Pipeline Drugs
While Deciphera Pharmaceuticals has developed promising drugs, there are potential risks associated with their chemical makeup and mechanism of action that could limit their efficacy and safety.
For example, ripretinib, which is designed to inhibit KIT and PDGFRA mutations in GIST patients, may have limited effectiveness if new mutations arise that the drug is unable to target. Additionally, its mechanism of action may affect normal cells as well as cancer cells, potentially leading to off-target effects and toxicities.
Vimseltinib is an inhibitor of CSF1R, a protein implicated in various diseases, and may have off-target effects that could lead to adverse events such as immune suppression, potentially limiting its efficacy. Since this is an investigational drug, the long-term safety and efficacy is not thoroughly established yet. That said, the short-term safety in trials was clearly demonstrated and compelling.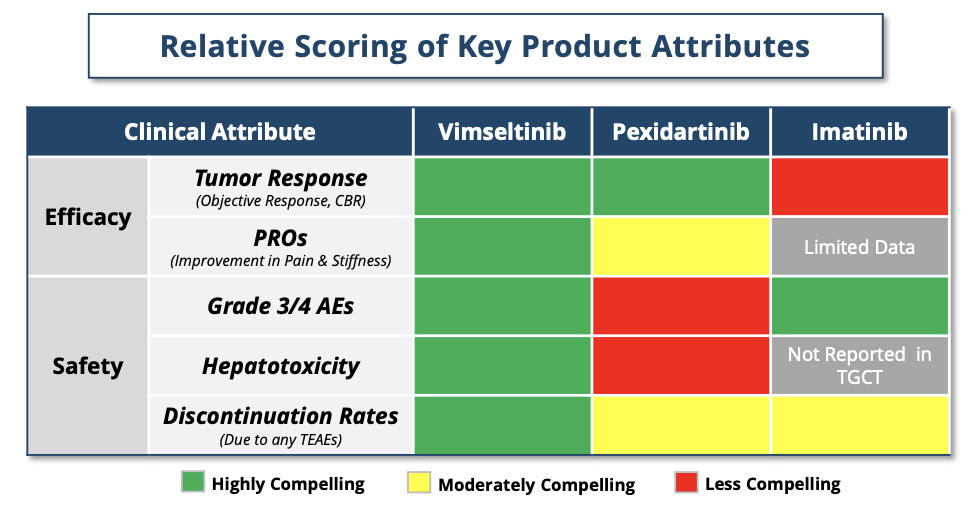 DCC-3116 is a potent inhibitor of ULK kinases, which play important roles in cellular homeostasis and autophagy. As with Vimseltinib, it may also have potential for unwanted off-target effects, potentially affecting normal cell growth and division adversely.
Novel Drug Advantages
Compared to other pharmaceutical companies that rely on more traditional drug discovery methods, Deciphera's proprietary drug discovery platform allows for the identification of specific targets and the development of drugs that are highly selective and potent.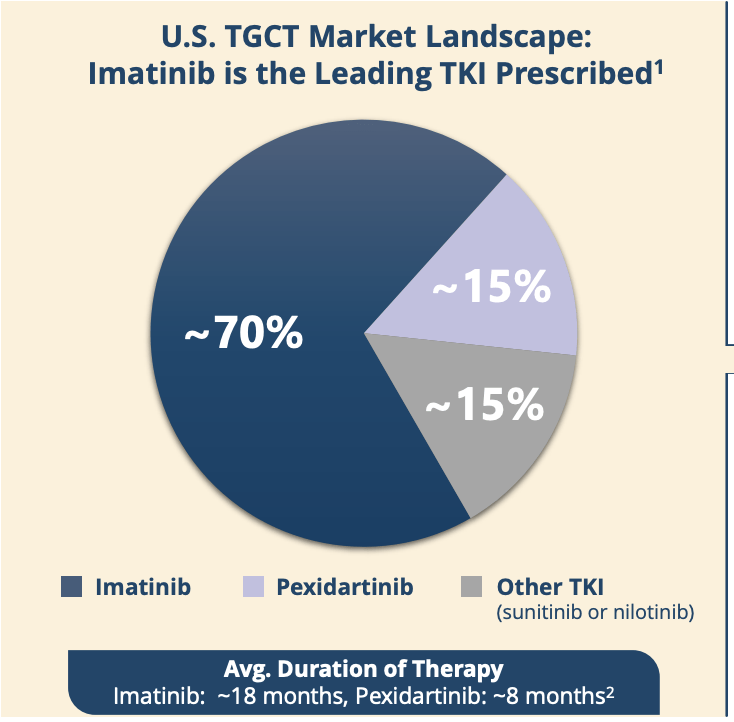 One of Deciphera's main competitors is Blueprint Medicines (BPMC), which also develops kinase inhibitors for the treatment of cancer. While both companies have developed drugs for the treatment of gastrointestinal stromal tumor, Deciphera's ripretinib has demonstrated improved efficacy in inhibiting the full spectrum of known mutations in KIT and PDGFRA, compared to Blueprint Medicines' avapritinib, which only targets certain mutations.
Similarly, Deciphera's vimseltinib, an investigational drug for the treatment of TGCT, is highly selective and potent, specifically targeting the CSF1R switch pocket. In contrast, the closest competitor, pexidartinib, inhibits both CSF1R and KIT, making it less selective and potentially leading to more side effects.
Final Thoughts
Deciphera has a strong financial outlook with a promising pipeline of potential cancer treatments. With the successful development and commercialization of QINLOCK and the ongoing trials for vimseltinib and DCC-3116, Deciphera is positioned to be a leader in the cancer therapeutics market. The company's focus on utilizing its proprietary drug discovery platform to target unique kinase inhibitors and its commitment to personalized medicine through molecular profiling of patient tumors demonstrate its dedication to improving patient outcomes. Overall, investors should consider Deciphera as a promising long-term investment opportunity in the biotech industry.
Read more here: Source link